Quality Management System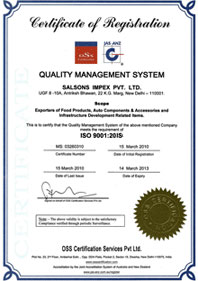 An effective Quality Management System (QMS) allows the Organization to reduce non-conformance to specifications, standards, and customer expectations in a cost effective and efficient manner. The ISO 9001:2015 standard specifies QMS requirements focused on an Organizationís ability to meet and improve upon Quality and Customer Satisfaction requirements.

As a part of the certification process, SALSONS has established its own QMS to ensure its continued commitment towards customer satisfaction. SALSONS also participates in a continuing certification process in accordance with the ISO 9001, to demonstrate its compliance with the standard and for improvement of the QMS.

SALSONS has currently achieved the ISO 9001:2015 Certification, the latest ISO standard designation.