ATLAS TMT Bars Private Limited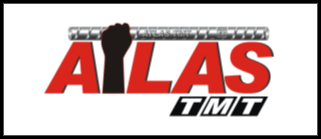 ATLAS TMT Bars Private Limited, after undergoing an extensive R&D phase to understand the pulse of the current market, has entered the long steel products industry with clear objectives and a decisive business plan. We are an emerging enterprise professionally led by Mr. Ashwin Kapur, Chairman & Managing Director, who envisions ATLAS TMT to be a leading steel Company in the coming times. Riding on the growth vistas, the Management of ATLAS TMT has conceived a multi-seeded business strategy for a successful entry into the industry and attaining phenomenal growth each year to reach leadership position.
ATLAS TMT is in the process of setting up its own manufacturing units in a number of states in Northern India to augment its sales & marketing and setting up an effective dealer / distributor network for retail and institutional sales. We have simultaneously already launched a franchise based business concept, inviting exclusive manufacturers in remaining states a unique opportunity to associate with us for exponential growth, and in-turn to extend our reach to Pan India level rapidly. The Company is also prepared to leverage on its existing International network sources and reach a reputable position in the steel industry in International markets in the future.
Visit us at: www.atlastmt.com