SALSONS Impex Private Limited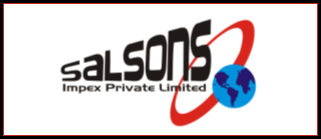 SALSONS Impex Private Limited was incorporated in 2008 with a view to promote not only selected products of the Company in the European, Middle Eastern, Latin American and African Markets, but also market an extensive range of consumer goods - durables and non durables, infrastructure development related products, auto parts & accessories, garments and a host of other products.
SALSONS is enriched with the latest technology, products, qualified and experienced business executives and technical hands, to meet the expectations of our valuable clients around the globe. We understand the pulse of the market and always keep the interest of our customer first and foremost, whether it is the delivery time, quality or price competitiveness.
Visit us at: www.salsons.com